Opening a tattoo studio
Opening your own tattoo studio can be hugely rewarding for a tattoo artist looking to establish him or herself firmly within the industry. For one thing, it allows you to share your work and personal style with your clients in your unique way. It also gives you the freedom to make your own business decisions as you see fit. It is important to remember, however, that opening a tattoo shop can be a difficult experience that should not be taken too lightly.
There are several things to consider when opening your own business that often go overlooked by new business owners.
The business plan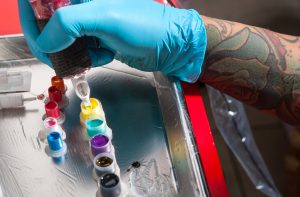 The first that you will want to do is to write a business plan. By doing this you will gain a clearer picture about your financial situation, your short and long-term goals, your priorities as a business owner, and many more aspects of business ownership. There are several training courses available to assist you in the process of setting up a business plan that is both effective and comprehensive.
After successfully completing your business plan, it is time to secure your start-up capital, location, and licensing requirements. It is usually best to start your business with enough money to get yourself through the first six months of business expenses, at least, but it is not always necessary.
Now that you have your business plan, location, license to operate, and first few months of bills paid in advance, it is time to find customers by networking and advertisement. Going to tattoo conventions and concerts are good ways to meet new people and get the word out that there is a new shop in town.
Advertising and promotion
For your advertising needs there is nothing better than word-of-mouth for an up and coming artist. Giving free or discounted tattoos, offering free touchups for life, developing a good portfolio, and connecting with customers on a personal level to design artwork that they will feel good about, all add to making you an artist that people talk about.
Conclusion
It may be a lot of work, but it is worth it when you see the money coming in and the satisfaction on your customers' faces as they leave your newly minted shop with a brand new tattoo. There is nothing like being your own boss, and there is nothing like doing what you love to make a living. Combine the two, and you end up as one of the rare few who actually enjoy their job.