How to make your own jewellery
How to make your own jewellery
What is jewellery? It's anything you put on for decorative purposes. Anything. Put a cable around your neck and secure it with an old-fashioned lock. There you go – that is jewellery. Speaking in more conservative, or, better yet, contemporary terms, making jewellery is all about imagination and expertise. Yes, in order to make good products, you will need experience and preferably an education. That will help you a long way to becoming a jeweller.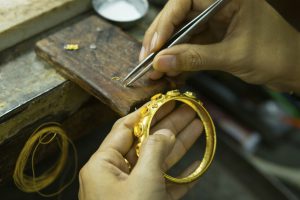 If you want to start out with tiny steps, there is no need for huge investments though – neither of your money or your time. It could be both fun and easy to make some jewellery, and as long as you put your heart into it, beautiful things will happen. Now, what you need from start is an idea. A sketch, preferably. Think about what kind of jewellery you would like to make. What kinds would you buy yourself? Are we talking beads, or intricate platinum earrings? It is all about the planning, and about what the end product should look like. Ask your friends for advice – they will probably give you a few hints at what people are looking to buy.
Glue, glitter, some coloured beads and a few carton boxes will get you a long way, if you really want to start small. By creating tiny, but handmade, decorative items, you could be looking at a huge market. Most people have a pound or two to spend on something gorgeous, so with fifty-eighty sales per day you could be looking at small fortunes by the end of the month. Word spreads quickly if you're good. On the other hand, you could invest a few thousand euro into ten-twelve nice items, handmade by professional jewellers, but with your sketches and drawings in mind. This is the perfect way to multiply your money extremely fast, if you have a good imagination and a sense of taste for jewellery. Create ten-twelve original items, and you could be looking at ten-folding your initial investment. Now that is what you can call high ROI (return on investment) ratio!